New Super Mario Land (SNES) is a fan-made game. See Fan Games
New Super Mario Land (SNES) is a homebrew fan-game created by an anonymous developer. It is a remake of the Game Boy game Super Mario Land but with the New Super Mario Bros. art style.
The game has blown up and has been met with a positive response.
Gameplay
Edit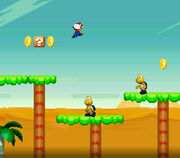 The gameplay is an upgraded version of its 8-bit counterpart. In addition to Mario standard moves (jumping, running) he can do a wall jump, via pressing the jump button whilst sliding down a wall.
Multiplayer
Edit
Four players can play this game, all taking control of their own palette-swapped Mario. The multiplayer Marios are coloured after Luigi, Wario and Waluigi respectively.
The game was made as a Christmas Gift to celebrate the 30th anniversary of the original game.
Physical copies have apparently been sent out by the developer, albeit in small quantities (30 cartridges, to be exact).
External Links
Edit
This is the 50 page on this wiki. Yes, that is apparently an important milestone for this wiki and makes this game even more special to us.
Community content is available under
CC-BY-SA
unless otherwise noted.